If deciding to become a homeowner isn't a big enough undertaking, as a potential home buyer you are faced with the age-old decision of whether it's best for you to buy an existing property or buy land and build a brand new home.
For many Kiwi First Home Buyers and home buyers in general, not enough is known about the home building process, resulting in it not even being considered as an option to potential homebuyers who then just buy existing. While both alternatives offer significant financial and lifestyle benefits. Ultimately, the answer as to which is the "better" option will depend solely on the priorities and preferences of the buyer (you).
And for one of the most emotionally charged purchases of your life, you would want to be sure that the house you move into is right for you as a 'home' and as a financial investment. Once you know what your particular needs and wants are you can decide what is classed as "better"
So, in the interest of curiosity, let's take a look at both alternatives and the advantages and disadvantages of each.
Buying an existing home – Pros
Timing
For first home buyers (and all home buyers in fact), the excitement of this milestone is incredible, and you probably can't wait to start your life in your new home straight away. It's no secret that buying an established home can be more convenient at the start because once you sign the dotted line you can start planning to move in.
This is where buying an existing home has the biggest advantage, by going his route you will get into your newly purchased home sooner. The process of purchasing an existing house is much simpler and less involved than a new build.
When purchasing an existing home all you need is;
Loan pre-approval
Make an offer
Sign a conditional contract
Your building and related inspections (a crucial step)
Settlement
In some instances, it can be as quick as 30 -60days from signing the conditional contract to settlement.
Location
As they say in real estate terms, location is key. Established homes tend to be in established neighbourhoods and if being in close proximity to the city or town centre is high on your priority list, an existing home may be the way to go because in general, you can't find vacant land to build on close to the city (unless you are on the market for a knockdown rebuild).
An existing home may be a better option if you would like to be in a particular established neighbourhood – near work, school, friends and/or family.
Having said that, with an existing home, the likelihood of finding a home in your dream location or the ideal neighbourhood is relatively high, though it is important to remember that along with the perfect location comes a hefty price tag to match.
So, unless you are confident the you have the budget to match you may still end up settling on an existing home that's a bit further away from the 'ideal' than you'd hoped, and for many first home buyer's this tends to be the reality. For an investor or a buyer who already owns a home this may be more of an advantage of 'existing home' versus 'new build' as they likely have equity in another property and are at a different (more established) financial position when on the house hunt. For the first home buyer, simply getting a foot into the property market may be a bigger priority than the perfect location. It's all relative.
Negotiate on price
Another advantage of buying an existing property is the potential for you to buy at and sometimes below market value. Due to the existing property generally being much older, it won't be without a few flaws, for this reason, there is potential for you to be in a position to negotiate a better purchase price following your building and related inspections or have the cost of repairs passed on to the seller (provided you have in place a conditional contract).
In order to take advantage of these opportunities to buy a property at a price below market value, you will need to put in the effort – do your research, work with a trusted industry professional and take your time.
Can create growth with renovation
An established property offers the potential to create further growth in equity, what this means is that if you were to find a property that is a bit run down and just needs a bit ow work (but is in a good location), you can do some cosmetic upgrades or add an extension even – this will almost immediately add value to the property and give instant equity. Again, with many aspects of making an existing property perfect for your specific needs and lifestyle – there is a degree of the cost that comes with it that home buyers need to consider and factor into their budget.
The potential is there, no doubt, but few (if any) can afford to take on any renovation work straight away and often leaves home buyers living in a less than ideal home for a while before they can make it their own.
As with any choice in life, there some drawbacks that need to be mentioned. These are not to say that it is a deal-breaker buy they do need to weigh up against your specific circumstances to see if this is a suitable home buying option for you and your family.
The cons
Cost
As I briefly mentioned, there certainly are some significant financial drawbacks to purchasing an existing home. The main contributing factor to potentially spending more than initially planned is simply down to the fact that the property is dated and has been lived in previously. With this comes the likelihood that there will be a need for repairs and even upgrades needed to get the home into a state that you are happy to live in. As with any home buyer whether you are a first home buyer, an investor, or onto your second home – cost is always a deciding factor.
Reduced government incentives
If you're a first-time buyer and you've been making regular KiwiSaver contributions for at least 3 years, you may be able to apply for a First Home Grant (previously KiwiSaver HomeStart Grant) through Kāinga Ora. The grant amount varies according to how long you've been paying into the scheme, and what kind of property you are buying. There's support from within in the industry as well.
However, with an existing home (old home) the amount of the government grant is less than what it would be if you were to build (or buy) a new home.
How it works
If you buy an existing home, you can get $1000 for each year you've paid into the scheme. The most you can get is $5000 for 5 years.
As opposed to if you buy a new home or land, you can get $2,000 for each year you've paid into the scheme. The most you can get is $10,000 for 5 years.
You can read more about the First Home Grant and eligibility criteria HERE
Hidden costs – Repairs & Maintenance
Not all that glitters is gold, and some buyers have been unpleasantly surprised down the track with just how much work is needed to get their newly purchased existing home to a comfortable (more functional) state. For this reason, it's important to always keep a level head and try to keep as much of the emotion out of the final decision as possible – don't rush the biggest purchase decision of your life.
It also pays to do your due diligence when it comes to conducting the appropriate inspections before signing on the dotted line. Buying a home is a huge financial decision so naturally you'd want to be sure that your investment is structurally sound and conducting professional building and pest inspections is how you can assess this. These inspections will expose costly problems ahead of time and can save you bucket loads of money down the track.
More Compromise on design/features
An existing home is already there, set for you to move in and start living. But it is just that – already build, to someone else's tastes and preferences. This is possibly the biggest disadvantage of buying an existing home – you won't get exactly what you want.
Older homes, tend to be functionally out-dated, no longer meeting the needs of most buyers. Many of which don't always offer the open plan living that most buyers now look for, or have fewer bathrooms or a small kitchen with cabinets that you don't like etc. Almost every feature and design element in an existing home will be dated to some degree. Unless you find an existing home that has exactly what you want and is in perfect condition, you will have to spend additional money on renovations, repairs, decorating and/or landscaping.
Helpful hint: These additional expenses should be factored into the overall price, especially when comparing the feasibility of buying existing to the cost of building a new home from scratch.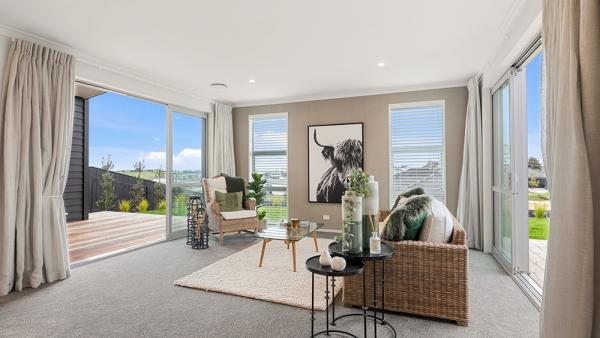 Building a brand-new home – Pros
You get exactly what you want
A new home is yours, based on your own individuality. It's like a blank canvas ready to be splashed with colour and built with a purpose, just for you and/or your family. When building a new house (from scratch) you can design that home exactly the way that you want it. This is especially appealing to first home buyers since the new build property is going to be YOUR home. It's a different situation if you're purchasing this solely as a new investment, then decisions are based more on a numbers game.
Increased First Home Grant amount
Many first home buyers are drawn to building new due to the access to a larger grant sum.
After 3 years of contributing to KiwiSaver, you may be entitled to a KiwiSaver HomeStart grant. The grants are administered by Housing New Zealand.
What the grants two are worth
For purchasing an existing home, the grant is between $3,000 and $5,000 based on $1,000 each year of KiwiSaver membership.
For building a new home, or for purchasing land to build a new home on, the grant is, in effect doubled to, $2,000 per year of membership in the scheme, up to a maximum of $10,000 for five years for each member.
There are maximum values of grants payable for the purchase of a single dwelling, regardless of the number of eligible purchasers:
$10,000 for the purchase of an older/existing property
$20,000 for the purchase of a new property.
You can read more on the First Home Grant and eligibility criteria HERE
No need for repair and/or maintenance
New build homes are built to meet current New Zealand building standards, they are more energy efficient and is built with the latest technology. Having everything being brand new and to current standards means that you won't need to fork out any extra money to carry out repair work and upgrades like you would in an existing home. Not having to deal with unplanned or surprise repair costs can help with your budgeting and financial planning over the years as you pay of your home loan repayments – giving you less mortgage stress
Choice on land
By building a new home, you will have a much broader choice of where to build. There are new home developments being established regularly with the 'Kiwi lifestyle' in mind, giving you the opportunity to live in a functional thriving neighbourhood utilising intelligent practices of town planning. Land in your ideal location may not always be an afforadable options and for this reason, industry trusted home builders like Stonewood Homes offer a range of house and land packages across the North and South island of New Zealand.
Greater capital gain
In most instances, a brand-new home is typically worth more after completion, than what it costs to build.
There are many benefits associated with building a new home and the process is actually a lot easier than you may think, particularly when you choose to build with an award-winning Master Builder like Stonewood Homes.
Cons
Timing
Because the home building process if a more involved one and the actual home is yet to be built, it does mean that it will take a slightly longer to move in (as opposed to buying existing). On average it can take a couple of months to complete a new home build.
Master builders like Stonewood Homes understands the significance of timing and offer their customers unrivalled communication through every stage of the build journey, allowing you to better plan and prepare with minimal inconvenience.
Cost could blow out
This is where your pre-build research will come into play. The more educated you are as a home buyer the better off you will be financially. There are some instances where less reputable home builders might try quote aspects of the build at a higher rate. For this reason, you need to ensure that you are an informed participant in the process. In addition to pricy quotes, you should always read and re-read your contract to be confident about what exactly is included in the build and what is not so that you avoid any nasty budget blow outs down the track (don't make assumptions). Most reputable builders like Stonewood Homes offer fixed price house and land packages for those home buyers on a strict budget.
So, do you buy or do you build?
Now that we've looked at advantages and disadvantages of both it's evident that the decision ultimately is a unique one and will be different for each market and each type of buyer. On occasion buying may be the better option for investors or those home buyers who have a more established financial position and also have existing equity. On the other hand, the option to build new may be more suited to those first home buyers who may need a slightly larger 'helping hand' in the form of government grants and incentives.
Helpful hint: Be sure to do your due diligence before signing on the dotted line to save yourself major headaches and heartache down the track whether you choose to build new or to buy an existing home.
How we are helping more Kiwi's become homeowners
With Stonewood Homes, becoming a homeowner is attainable. The team at Stonewood Homes want to show you how you can escape the rental rut and own a home with as little as 5% deposit, and nothing more to pay till you move in!
The is an exclusive home buyer's solution that provides the first home buyers of New Zealand a way to enter the market sooner, along with the added value of having a 10-year Master Builders Guarantee.
It is a sensible solution that allows the first home buyer to build a brand-new home with Stonewood Homes. You don't need to wait till you've saved a 10% or 20% deposit to own a beautiful Stonewood Home.
We want you to love your home for a lifetime so it's all about ensuring you're in a qualified position to start a new home build.
Stonewood Home's low deposit home buyer's solution (as with all our home builds) is backed by unmatched value and quality. We want you to enjoy the journey without the stress and worry.
Stonewood Homes is an award-winning builder who has built a strong reputation of producing some of the industry's top-rated home designs.
Simply contact our New Home Consultants and we'll be in touch and have you on your way to owning a home sooner than you thought possible.